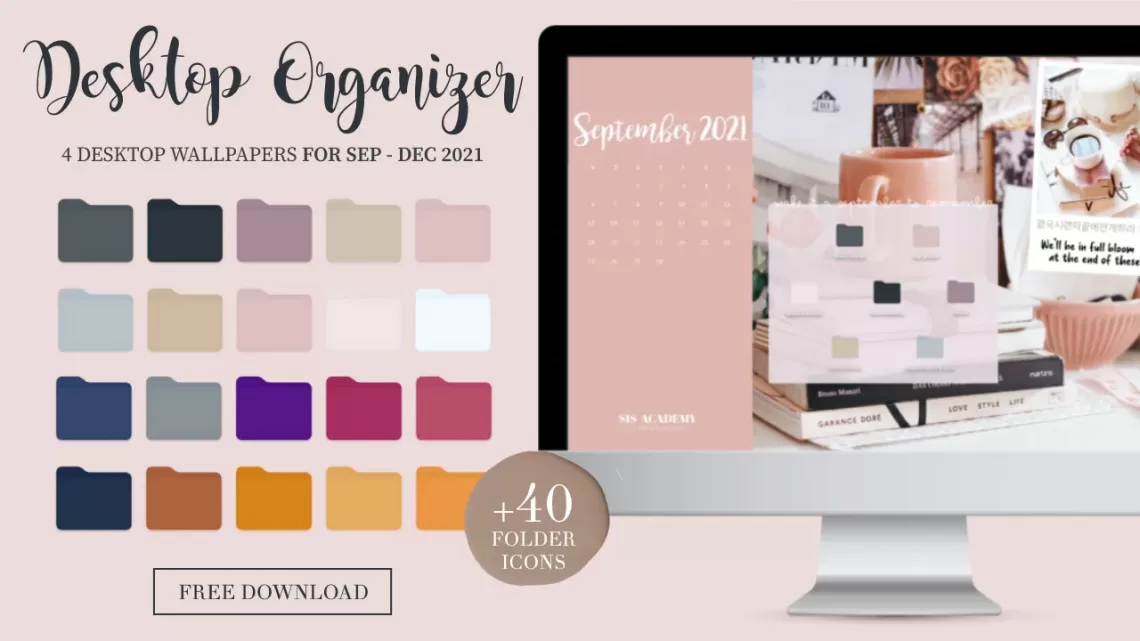 Cherish 2021 ♡ Free Desktop Wallpapers Organizer & 40 Folder Icons
Welcome to the Creative Lab where I share my digital products like study notes, planner templates, wallpapers and Lightroom presets.
As the end of the year is near, it's easy to get overwhelmed at this time of year. So I decided to design 'desktop wallpaper organizer + folder icon sets' as my first creative lab project. Hope it could help boost productivity at study, work and personal stuff and hope you enjoy it 🙂
DESIGN KEYWORDS:
• Seasonal Collection • Minimal Calendar • Soft September • Spooky October • Cozy November • Dazzling December
HIGHLIGHTS:
✦ Digital Download
✦ Digital File Types: PNG, ICNS (for Mac), ICO (for Window)
INCLUDES:
➤ 4 x monthly desktop wallpapers with minimal calendar : SEP – DEC 2021
➤ 40 folder icons : 4 sets x 10 icons for each month
INSTRUCTION:
• How to change folder icons on a Mac
• How to change folder icons on a Window
FOR PERSONAL USE ONLY:
• DO NOT sell, reproduce, or distribute for profit.
• Feel free to share it with the copyright credit ©SIS ACADEMY.
Illustration by Cookie 🍪 (Ponglada Niyompong) of SIS ACADEMY. Share a snap of your laptop on Instagram, Twitter and Facebook with #SisAcademy. Hope you like it! 🙂